You've seen them parked along the streets, spreading delicious smells of food grilling within, and have likely sampled their local flavors. Chicago's food trucks tout a loyal following and provide a quick and convenient spot to grab a bite to eat. Out of one of those food trucks emerged Chef Rickie Perez, a native of Logan Square with an appetite to prove his talent.
Rickie will debut on MasterChef on FOX this Monday, May 26 at 7 p.m., hosted by Gordon Ramsay. Judging alongside Gordon will be Chicago Chef celebrity Graham Elliot and restaurateur Joe Bastianich. Beginning with 30 chefs from around the country, the judges will eliminate at each round until the best contestant is dubbed MasterChef.
Chefs will test their culinary expertise with challenges each week, including:
Team challenge to prepare a meal for 500 service men and women on an army base
Preparation of a romantic meal for 14 couples
Restaurant takeover at a popular Hollywood dining destination
Competing for the best game-day grub for a group of sports fans
Excited to represent Chicago, Rickie gave me the inside scoop on his inspiration and competition: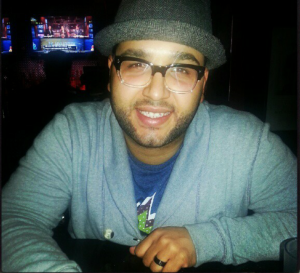 What excited you the most about competing in MasterChef?
I have been a BIG fan of the show since the beginning. Plus, being a home cook from Chicago, I have always looked up to Chef Graham Elliot and the amazing things that have come out of his kitchens.
How did your food truck experiences prepare you to compete in MasterChef?
I have had the extreme pleasure of riding around this beautiful city in the Southern Mac and Cheese, 5411 Empanadas, Jerk Modern Jamaican, and The Fat Shallot Classic Sandwiches food trucks. In doing so, I have been able to immerse myself in foods and cultures that I may have never been able to if it wasn't for the growing food truck population in Chicago.
Which judge is the toughest and why?
Graham was the scariest for me, but only because I truly look up to him so much.
How does your work represent Chicago?
I was born and raised in Logan Square and my beautiful wife, Jannice, and I still live there to this day. I have brought my experiences from living in this city, known for its amazing and vast variety of food, as well as those from growing up on my father's food and having my mother-in-law's amazing home cooking.
What food truck(s) do you run, where can we find them and what should we order?
I am no longer on the road, but I am launching my own project, Logan Oyster Socials. It is a traveling oyster bar for parties, cocktail hours, weddings or any get-together in need of a half shell.
Many thanks to Rickie and good luck during MasterChef Season 5! Catch the debut on FOX this upcoming Monday at 7 p.m.
{Images via FOX and Rickie Perez}