St. Patrick's Day is one of Chicago's favorite holidays – so big in fact, that the city drops 45 pounds of vegetable dye to color the Chicago River the honorary emerald green. With crowds spilling out into the streets, St. Patrick's Day is one big party you do not want to miss. Here are the top 5 things you need to do to make your holiday complete:
1. Toast your friends with a green drink in hand
In true Irish fashion, St. Patrick's Day should be enjoyed with a drink (or many). Join your friends early in the day (by 10 a.m. is recommended) and enjoy some breakfast favorites along with these themed drinks:
Green Jell-O Shots (make the night before)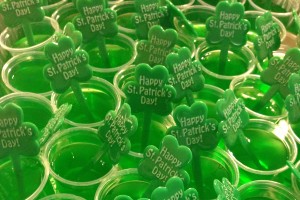 Ingredients:
(4)  0.3 oz. packages lime Jell-O (sugar-free is better so your friends don't have a sugar crash)
6 cups chilled vodka
2 cups boiling water
Pour the gelatin mix into a large bowl. Add the 2 cups boiling water, stir until completely dissolved. Stir in the 6 cups chilled vodka. Arrange 1 or 1.5 oz. plastic shot glasses on a tray. Use a liquid measuring cup with a spout or a funnel to carefully pour the mixture into the shot glasses. Chill in the fridge overnight and enjoy in the morning!
Irish Coffee
In a mug, drop in 1 tablespoon of brown sugar. Pour 1.5 oz. Irish whiskey over the sugar. Fill the remainder of the glass with coffee, stirring as you go. Top with fresh whipped cream and optionally, shavings or sprinkles of chocolate.
2. Head to the river to see the green dye (but don't fall in!)
After your morning breakfast and drinks, gather up your crew and head to the river. The 50-year old tradition of dyeing the river green draws approximately 40,000 people, as it's definitely a sight to see! The best places to see the green river are over the bridges between Columbus and Wacker Drive. The riverwalk between Michigan Ave and Columbus is one of the best viewing spots. The dyeing begins at 10:45 a.m. and is visible for about 5 hours, so catch it while it lasts.
This year, the polar vortex weather has called into question whether the frozen river can actually be dyed green. According to the parade coordinator, if there's a will, there's a way! The plan is to send a large tugboat through the river to break up the ice. Even if there are chunks of ice floating on the surface, the river can still be dyed. This may be the first time in the history of the tradition that weather has impeded the process. No matter what happens, St. Patrick's celebrations will carry on.
3. Feast on corned beef and cabbage
After you've had your fill of the green river, head to River North to continue your spirited adventures. Most bars and restaurants will have food and drink specials, and the trick is finding a place to convene that isn't already spilling out into the streets. I can't go a year without tasting corned beef and cabbage, and as luck would have it, many restaurants are serving this year!
Green Door Chicago (678 N. Orleans) – Serving up corned beef and cabbage and offering prizes for the best outfit
Rockit Bar and Grill (22 W. Hubbard) – St. Pat's Burger topped with corned beef, bacon, sauerkraut, 1000 Island dressing on a pretzel bun, also serving Guinness Potato Cheddar Soup
Harry Caray's (33 W. Kinzie) – Everything from Beer Cheddar Soup to a Corned Beef Sandwich to Fish & Chips
4. Take part in a mid-afternoon dance party
Once you've refueled, heat things up with a dance party – the following bars are hosting music all afternoon:
The Grid (351 W. Hubbard) – 4 DJs all day, live band The Hot Sauce Committee playing 1 – 4 p.m., Irish stilt walkers, bagpipers and more
Timothy O'Tooles (622 N. Fairbanks) – Events will feature beer chugging contests, bagpipers and an Irish-inspired menu all day
D4 Pub (345 E. Ohio) – Celebrate in heated outdoor tents, with a $10 cover you will receive a t-shirt and party favors
5. Find a leprechaun
You will see many a St. Paddy's fan dressed up – in the bars, on the streets, and maybe even swimming in the river. If you see your favorite leprechaun costume, take a picture and post it to Instagram – make sure to tag thechicagolifestyle!