Whether you drink Red Bull or not, you were still able to "get your wings" at the recent Red Bull Art Of Can Exhibit.
Innovative artists from across the nation were asked to "conceptualize and create pieces using only Red Bull cans as their primary material." More than 300 submissions were made but only thirty of the sculptures made it into the public display in Millennium Park.
Judges of the crafts included Noelle Allen, head of the sculpture department at Dominican University in Chicago; Rachel Handler, senior managing editor of Chicago Sun Times Splash Magazine; Angela Bryant, owner of Abyant Gallery; Matt Eaton, curator and director of Red Bull House of Art in Detroit; Michelle Grabner, curator for the prestigious 2014 Whitney Biennial; and Hebru Brantley, a Chicago based and world renowned multimedia artist.
The nationwide artists flew to Chicago from Texas, Michigan, Iowa, Florida, Colorado, Kansas, Georgia, Kentucky, Arizona, New Jersey, Ohio, and New York to show off their "People's Choice Award" sculptures during the ten day exhibition. Seven out of the 30 artists were from Chicago.
The exhibit blew up around the social media world for the week with videos and pictures and the trending #ArtOfCan hashtag. The biggest crowd pleasing sculpture was "Heaven Help Me," which formed a set of angel wings that people began to stand in front of to have their photo taken in order to "get their wings." Clever.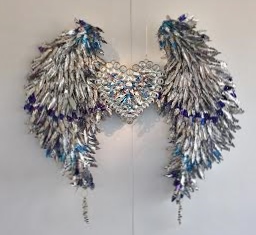 Another incredible piece was the giant sculpture of a bull that actually had to be displayed outside of the exhibit tent because it was so big. Made out of the original Red Bull cans (Sugar-Free and Low-Calorie have different designs), this display was the most eye catching piece that drew people to go inside and check out what else the exhibit had to offer.
After ten days of photos, fun and free energy drinks, the exhibit ended on Sunday with a parade of Red Bull Mini Coopers up Michigan Ave. and throughout the loop.
For more information join the Red Bull #ArtOfCan conversation with @redbullCHI or click here to vote for your favorite piece.