Looking to get in shape for the summer? I have your answer: kickboxing. Even if you don't live in the West Loop or Lincoln Park area I strongly suggest visiting TITLE Boxing Club for their "free shot" class. Be warned, you'll be hooked. I consider myself to be someone who is in good shape and I workout several times a week, but one class at TITLE revealed all my fitness weaknesses. They are not joking when they say it's the ultimate full body workout.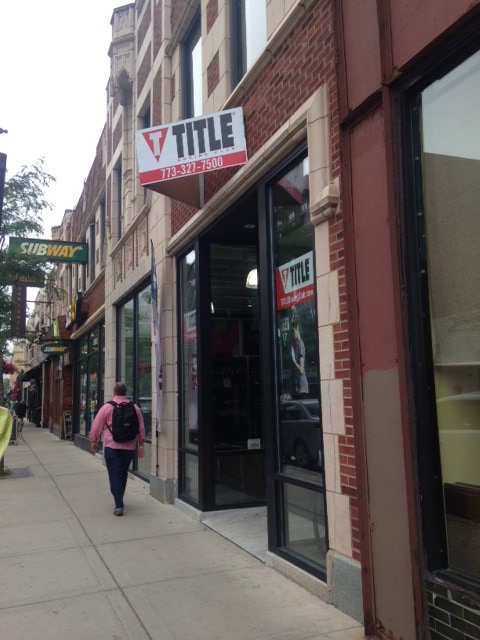 TITLE Boxing Club in Lincoln Park offers boxing and kickboxing classes and even personal trainers if you choose to design your own workout. There aren't different levels of classes because they're designed to cater to all fitness levels. As a student on a limited college budget, I had little intention of signing up for a membership after the free class, but as soon as my free class was over I found myself doing my finances in my head to see if I could make it work.
There are three different types of memberships, so give them a call if you're interested or sign up online to check out the first free class. Unlike many other gyms, you do have to sign up for a membership instead of dropping in and paying by class. While this seems like a frustrating policy, they do it intentionally because you really can't get the results you want if you randomly drop in. According to the trainers, if you commit to about 3 classes a week and consciously eat healthy, you will see results. Upon signing up for a membership they give you $130 worth of equipment up front like gloves, hand-wraps, a towel, and a drawstring bag.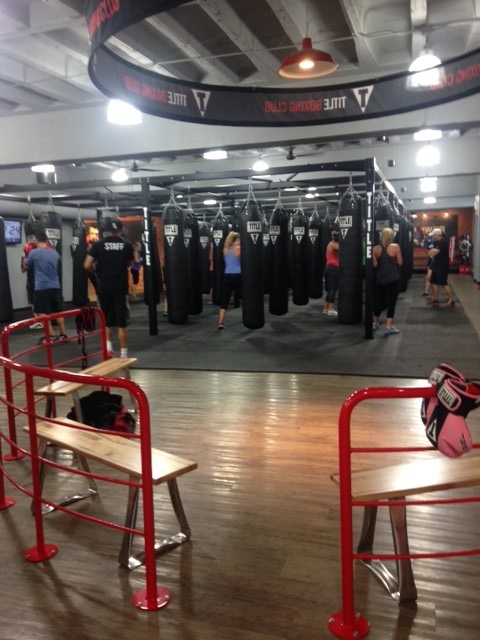 When I walked in to Title, I was warmly greeted and before I had time to look around and start to dread the workout, my hands were quickly wrapped and I was handed a pair of gloves. The first part of the hour was a warm up with jogging, sprinting, pushups, and many burpees. Then, I got to put on the gloves and hit the punching bags. I had such a great time taking swings at the bags I didn't even realize the puddle of sweat underneath me when we started the core workout and then cool down.
As an awesome trainer at the new TITLE Boxing Club, Katie shared with me her experience and why she believes kickboxing is the best workout.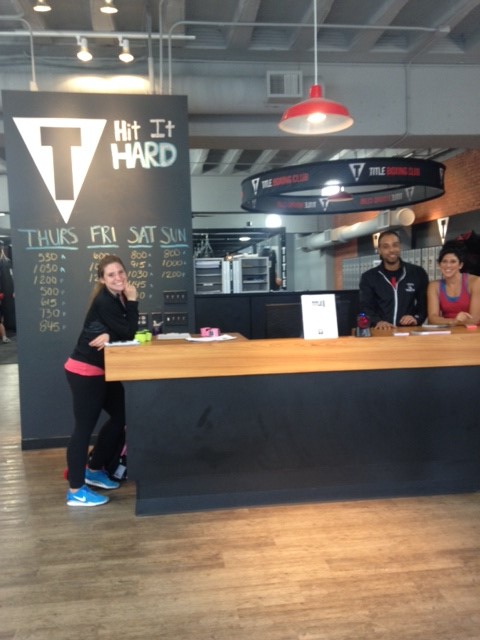 What kind of experience do you have with boxing or kickboxing?
I have none. I'm a personal trainer and I had take it in the past it was looking for something new.  I love it for two reasons; the intensity and the energy. It's better than a cup of coffee, it really wakes you up! I completely believe in this method because as a trainer I do everything and my first time I could barely breathe! My stomach tightened and shrunk!
What do you teach and how often?
I teach eight classes a week teach a very wide variety. Every one of my classes is different and anyone can take them.
Does this method really work?
Yes. If you can take these classes a few times a week, it is the best way to get in shape. The classes are high intensity and a lot of cardio so the calorie burn is ridiculous. It is less how you fight and more about how your body works. Every time you take a class you feel better.
What is your favorite food after a workout?
I am a firm believer in eating clean and living a healthy life all around. I eat the Pest Chicken Bowl from Protein Bar.
To learn more about TITLE Boxing Club, visit http://titleboxingclub.com or call the Lincoln Park Location at 773-312-4726.